Mini PC IoT GSM Modem: Configured Asus Chromebit CS10 + Bulk SMS GSM Modem + Sim + Smsit.ai Gateway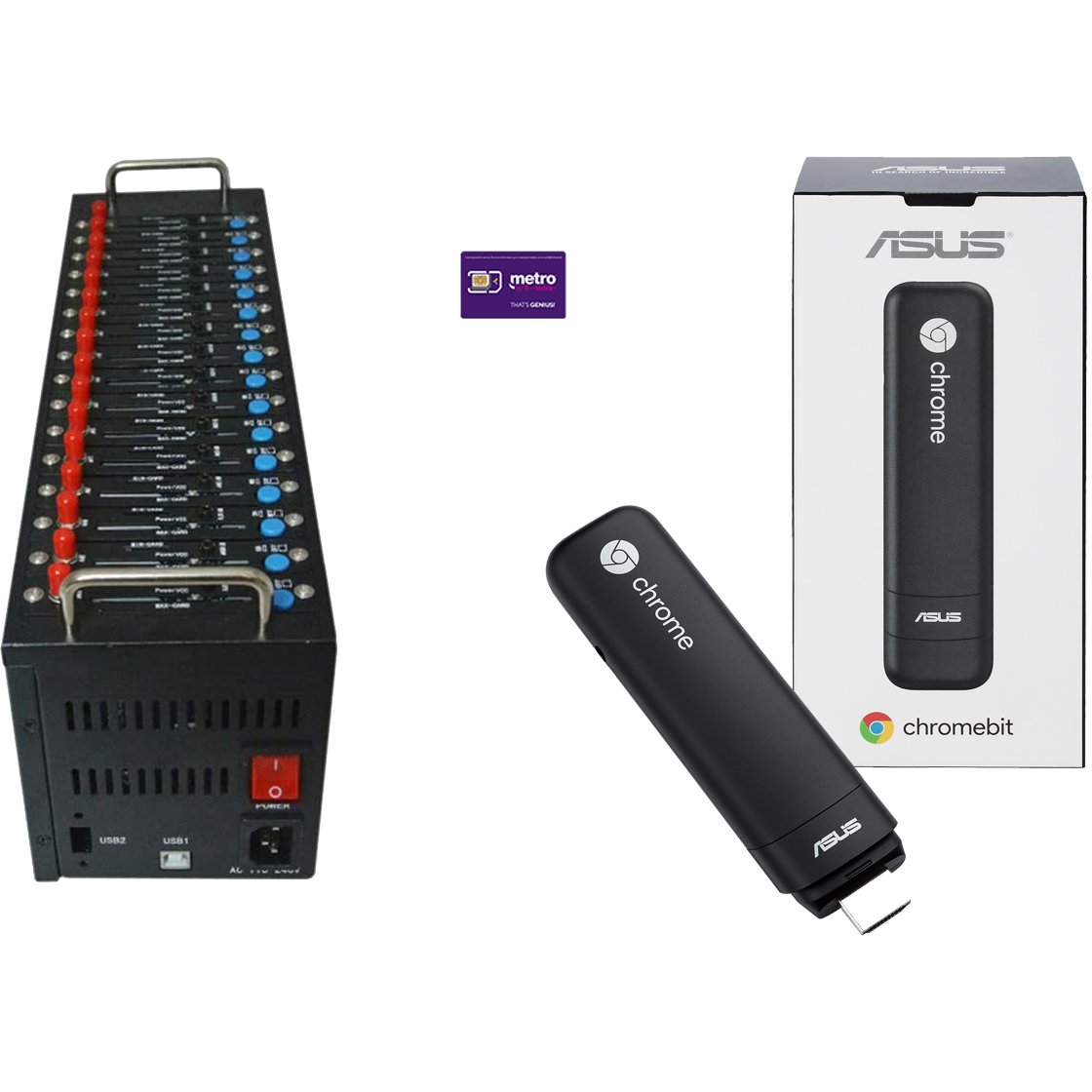 More than 10 available
Details
Shipping: US-Mainland: free (more destinations)
Sales Tax: California: 7.25%
Condition: Brand new
Returns: 30 days, buyer pays return shipping (more)
*The store has not been updated recently. You may want to contact the merchant to confirm the availability of the product.
Mini PC IoT GSM Modem by smsit.ai

IoT Kit Package includes: Fully Configured Asus Chromebit (CS10) + GSM Hardware Modem (Bulk SMS Device 16 Port GSM Modem Pool) + 1 MetroPcs 5G Simcard + Android SMS-iT Gateway App by smsit.ai

The Mini PC IoT GSM Modem is fully set up and configured with your SMS-iT Decentralized account and SMS-iT Gateway App, so that you just plug-and-play, i.e, start using the Mini PC IoT GSM Modem with your SMS-iT account once you receive it, without the requirement of any further configurations.

About Fully Configured Asus Chromebit (CS10) :
- A candy-bar-sized Chrome OS device
- A candy-bar-sized computer – the world's smallest Chrome OS device which fits in your pocket
- Make your TV smarter — enjoy a large full-screen Chrome OS experience in your living room
- Ideal for surfing the web, keeping up with friends and family on social media, and HD entertainment
- Easy-to-manage, cost-effective, and highly-scalable solution for signage, kiosks, and other business applications
- Bundled extension cable or bendable Flex Connect HDMI connector for easy connections to hard-to-reach HDMI ports
- Runs the latest Chrome OS, and features automatic updates and anti-virus software for a smart and secure digital environment
- 2015 Good Design and 2016 CES Innovation Award-winning design available in stylish colors
- Smallest chrome OS device, turn any HDMI display into a computer and 100 GB Google drive space
- Dual band a/b/g/n/ac 802.11 wi fi with bluetooth 4.0 for fast connections and wireless peripheral compatibility
- 16 gb flash memory storage with easily accessible USB 2.0 slot for expanded storage or wired peripherals
- Included HDMI extender cable and 4 hook and loop stickers allow for more options in setting up chromebit
- Thousands of chrome os apps allows for work and play in a portable package; Power supply: 18 w power adapter

ASUS Chromebit
ASUS Chromebit CS10 measures just under 5 inches and is the world's smallest Chrome OS device. Turning your large monitor or TV into a computer running the latest Chrome OS is easy – simply plug Chromebit CS10 into the HDMI port and pair it with a Bluetooth keyboard and mouse. Chromebit CS10 gives you all the computing essentials so you can conduct online research, catch up with friends, or watch Full HD movies on the big screen. You can even use it for business applications or digital signage and self-serve kiosks. Explore the possibilities with ASUS Chromebit CS10 – the minimalist and cost-effective computer for your home or business, you can even take it with you on the road.

Plug in your way
Small and smooth, with sophisticated details, Chromebit CS10 smartly fits anywhere.

To accommodate the angles and positions of HDMI connectors on different displays, it comes with an HDMI extension cable. Adhesive stick-on hoop-and-loop fasteners help hide Chromebit CS10 behind your monitor or TV or put it out front for easy access. Chromebit CS10 fully embodies the best of ASUS design and Google innovation, and it's already received a 2015 Good Design Award and 2016 CES Innovation Award.

Power and compatibility
Powered by the latest Chrome OS, Chromebit CS10 boots up in seconds and delivers Full HD graphics performance. Together with 2GB of memory, 16GB of eMMC storage, dual-band 802.11ac Wi-Fi, Bluetooth 4.0, and both USB and HDMI ports, Chromebit CS10 reduces dimensions yet preserves the capabilities of a computer to provide new opportunities. We also have a list of qualified Bluetooth keyboards, mice, and USB hubs. No matter how you want to attach peripherals, Chromebit CS10 has you covered.

Networking capabilities
Enjoy faster and more stable wireless connections thanks to dual-band 802.11 a/b/g/n/ac Wi-Fi and Bluetooth 4.0.

Built-in security
Chromebit CS10 automatically keeps up to date, so you'll always have the latest features and virus protection. And best of all, it won't slow down over time.

Protecting your privacy
Account-based data access makes Chromebit CS10 ideal as a shared computer. Individual users can easily switch between accounts.

Thousands of apps
Access the Chrome Web Store for a wide assortment of apps online or offline – edit, play, and enjoy hundreds of apps without an internet connection.

100GB Google Drive
Every Chromebit CS10 comes with 100GB of free Google Drive space*. You'll always have access to the files you need as well as your favorite Google services.

Access your files anytime, anywhere
Your files are automatically synchronized to Google Drive*, so you have access to them in the cloud anytime, anywhere. All you have to do is log in to your Google account on any device.

*100GB of free storage is for two years, starting on the date you redeem the Drive offer. Learn more.


ABOUT GSM HARDWARE MODEM
Bulk SMS Device 16 Port GSM Modem Pool USB Interface SMS STK IMEI Change:
16 Ports Modem Pool is a big bulk SMS machine that consists of 16 GSM modems. The modem pool provides an efficient way for the management of a number of modems.

After connecting the modem pool to the computer through a USB cable, the computer shows 16 COM Ports. You can use 'AT Command' or some software to control each of the modems for sending SMS, using mobile recharge STK USSD, and changing IMEI.

Technical Parameters
(1) Type: 16 Port GSM Modem Pool
(2) Working Frequency: GSM 850/900/1800/1900MHz
(3) Interface: USB Port
(4) Support Sending and Receiving Bulk SMS
(5) Support STK/USSD/Mobile Recharge/IMEI Change
(6) Power Source: 5-24V DC
(7) Control via AT Commands

Packing List:
(1) One unit Modem
(2) One Piece USB Cable
(3) One Piece Power Supply Adapter
(4) One Piece Driver CD
(5) 16 Pieces Antennas

Brand FML
Connectivity Technology USB
Number of Ports 16

About this item
(1) 16 Ports GSM Modem Pool
(2) Working Frequencies: GSM 850/900/1800/1900 MHz
(3)USB Port Interface
(4) Support Bulk SMS/STK/USSD/Mobile Recharge
(5) Support IMEI Change/AT Command



ABOUT METROPCS 5G SIMCARD UNLIMITED:
+ Unlimited High-speed data, SMS, MMS, and Voice.
+ Send unlimited SMS and MMS messages Worldwide.
+ Access to T‑Mobile's 5G network.



ABOUT SMS GATEWAY BY SMSiT.ai
"More possibilities for growing your business"

Meet SMS-iT™ Gateway, a smart decentralized SMS/MMS messaging Gateway, built for businesses, IoT, Metaverse, and the Blockchain, which enables you to send unlimited messages worldwide for cheap.

SMS-iT™ has the Cloud and Decentralized Versions. The Cloud version uses 100% of our infrastructure, with centralized control by us. The Decentralized version uses 95% of our infrastructure, and the remaining 5% is your Android Phone or Raspberry PI, Linux, or Windows server running the Android OS. This 5% capacity is used as the decentralized hardware modem for the Smart SMS/MMS Gateway of the Decentralized version.

The Decentralized version comes fully equipped with its own Smart SMS/MMS Gateway, which enables you to send unlimited messages at the lowest prices you can find on the internet!

The SMS-iT Gateway enables you to relay bulk SMS/MMS messages to your intended recipients, by utilizing our SMS-iT Gateway Modem Android APP configured on your Android Phone or Raspberry PI, Linux or Windows running the Android OS, as your decentralized SMS/MMS Gateway. The Decentralized version is perfectly suited for IoT, Metaverse and Blockchain projects, because of its direct integration with Raspberry PI, Linux or Windows servers running the Android OS.
A sim-card capable of sending sms/mms messages is required for the Android phone or server running the Android OS. The sim-card acts as your Private Number.

What happens when you first sign-up?
When you first sign-up for a Decentralized Version account at smsit.ai, your account would be automatically configured with a Demo Gateway which comes with a US mobile number.

The Demo Gateway limits you to sending messages only, where to have your account fully functional with your own personal mobile number and the ability to send and receive messages, you would be required to configure your FREE SMS-iT Gateway with your Android Phone or server running the Android OS.

Advantages of the Decentralized Gateway
-Send unlimited messages at the lowest prices you can find on the internet!
-Built for IoT, Metaverse and Blockchain projects, via the Android OS decentralized app and API.
-More control over the types of messages you can send, as high-risk industries are allowed.
-Created for perfect integration with Raspberry Pi as a GSM modem, for all IoT and Metaverse projects.

How can I configure the SMS-iT™ Gateway?
01 - Download
After creating your SMS-iT™ Gateway account at smsit.ai, access the gateway from your Android Phone or Server, and download the SMS-iT™ Android Gateway APP to your Android Phone or Server when the config pop-up screen appears.

If the pop-up screen does not appear, proceed to Devices and click on Add Device to see the pop-up config screen.

02 - Install
Install the gateway on your phone or server after downloading.

For Android phones, if you don't know how to sideload apps or install android apps without the playstore, then you can follow the instructions we provide in our app.

03 - Configure
Open the app after the installation, and you will be asked to give bunch of permissions if you are using an Android phone. Just click Allow or Yes on all prompts you receive and you will be presented with login window.

Touch the "SIGN IN USING QR CODE" button to scan the QR code shown in the pop-up, to login.
... [Full Description]